High Intensity Laser-Matter Interactions
Ultra powerful and intense lasers can be used to create plasmas, which is many times hotter than the center of the stars in the laboratory. Because of the strong laser intensity this hot plasmas becomes relativistic and complex interplays between strong electromagnetic fields with matter produce energetic electrons, X-ray, and ion beams.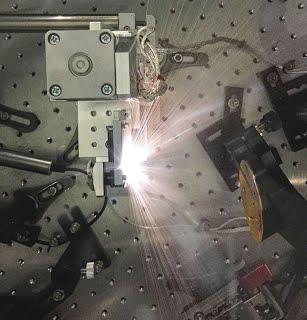 High intensity laser shots on a target
Hot electrons generation and transport in solid targets 
Transition radiation produced when electron cross the target boundary contains a lot of information about fast electrons acceleration, transportation, and dephasing. By measuring coherent transition radiation (CTR) from planar targets at the fundamental and harmonics of laser frequency, bremsstrahlung X-ray yield, and using the ballistic electron transport model, we showed that electron temperature and bunching frequencies of electron micro-pulses accelerated by various heating mechanisms could be precisely determined.
Wedge targets irradiated by ultraintense p- and s-polarized laser pulses.

Hot electron productions in reentrant targets was also explored by K-alpha spectroscopy and hard x-ray yield measurements. It was found that there exists the target and polarization configuration that maximizes high-energy electron and hard X-ray production, when K-alpha yield is minimum. The results are consistent with particle-in-cell (PIC) simulations, which suggest that radiation pressure compression can be important at the tip of a cone in enhancing K-alpha yield. For rather large opening angle cones, hot electron production variation with target and incident polarization can be explained through collisonless heating models.

[References]
L. J. Bae & B. I. Cho, CAP 15, 242 (2015)
B. I. Cho, et al. PRE 80, 055402 (2009)
B. I. Cho, et al. PoP 15, 052701 (2008)