A recent review article on "high energy density physics and an x-ray free electron laser (고에너지밀도 물리학과 X-선 자유전자 레이저)" could be found here


Being neither solid, liquid, gas, nor plasma, Warm Dense Matter (WDM) occupies a no man's land in the map of material phases. Its temperature can range between that of planetary cores (tens of thousands K) to that of stellar cores (hundreds of thousands K). Not only is it prevalent throughout the universe, it is relevant to inertial confinement fusion (ICF) and material performance under extreme conditions. However, because of its extreme temperatures and pressures, WDM tends to be drastically transient and thus difficult to study in the laboratory.
Map of High Energy Density (HED) science. [Bostedt, et al, Rev. Mod. Phys. (2016)]

We perform a series of experiments using 3rd and 4th generation X-ray light sources to generate and probe warm dense matter and hot dense plasmas and measure the electronic, atomic structure and thermodynamic properties of them. And we also work to extend our experimental capabilities in this regime by developing laser-based short wavelength light sources.
PAL-XFEL
Ultrafast X-ray Absorption Spectroscopy of WDM
We have set up ultrafast X-ray absorption spectroscopy measure the electronic structure of WDMs, demonstrating that fast-changing electron temperatures of matter under extreme conditions can be determined with picosecond resolution.
The beamline is equipped with a pink-beam sample chamber for broadband x-ray absorption near-edge spectroscopy (XANES). In addition, we installed a grazing-incidence x-ray streak camera detector at the endstation. The detector has the ability to spread out x-ray pulses for a time resolution of ~1 ps. This unique combination of beamline and detector allows recording of ultrafast XANES spectra of a sample of WDM that undergoes nonreversible change in a broad-band single-shot mode.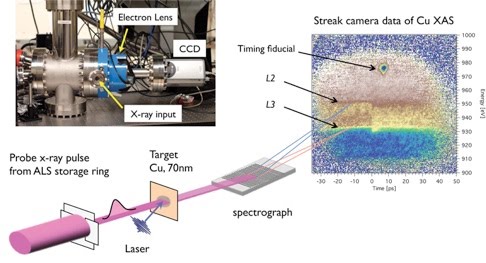 Schematic of the x-ray absorption spectroscopy setup. Warm dense copper is created by a femtosecond laser and probed at the pink-beam chamber upstream of the spectrograph. The broadband spectrum is swept across the CCD detector of an x-ray streak camera for picosecond temporal resolution. Inset: Photo of X-ray streak camera.

The fast-changing XANES data indicate that the electron temperature peaks (~10,000 K) with optical excitation, then drops and reaches equilibrium with the lattice (~ 5,000 K) in 10 ps. This is faster than the time scale expected from the known electron–phonon coupling constant of copper (>20 ps). The result suggests that in the WDM regime, the energy exchange rate between electron energy and atomic vibration is expected to be temperature dependent and is about 3 to 6 times faster than previously assumed.

[References]
B. I. Cho, et al, Sci. Rep. 6, 18843 (2016)
B. I. Cho, et al, PRL 106, 167601 (2011)
Creation and Diagnosing WDM with an X-ray free electron laser
With an advent of the Linac Coherent Light Source (LCLS) x-ray free electron lasers (FEL), ultrafast and high intensity, which were previously the domain of optical lasers, are now available in the x-ray regime. The response of matters to such intense x-ray is of great interest not only because of the fundamental aspects, but also it opens up new possibilities in various fields of sciences including HED physics. We have investigated the interaction of a solid aluminum with an intense x-ray pulse by means of emission spectroscopy. A thin aluminum foil is isochorically heated by a quasi-mono energetic intense x-ray pulse (~100 fs, >1017 W/cm2) from LCLS. Due to a long penetration depth of x-ray, a bulk of hot dense plasma with well-defined temperature and density could be created.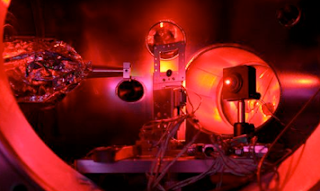 Experimental setup for X-ray heating experiment at LCLS – SLAC. The chamber in which aluminum was converted to
"hot dense matter" via X-ray bombardment.

X-ray emissions from this hot plasma indicates that the temperature of aluminum is as high as 3.6 million degrees and while it maintains the initial density of solid. Except the explosion of nuclear bomb, it is the hottest matter on earth created in controlled way in the laboratory, and provides experimental data about the poorly understood plasma's behavior such as ionization, resonance, opacity etc. The findings could help astrophysicists better understanding the processes rolling deep inside of the sun, and researchers to generate fusion power.

[References]
B. I. Cho, et al, PRL 119, 075002 (2017)
B. I. Cho, et al, PRL 109, 245003 (2012)
S. M. Vinko, et al. Nature 482, 59-62 (2012)​